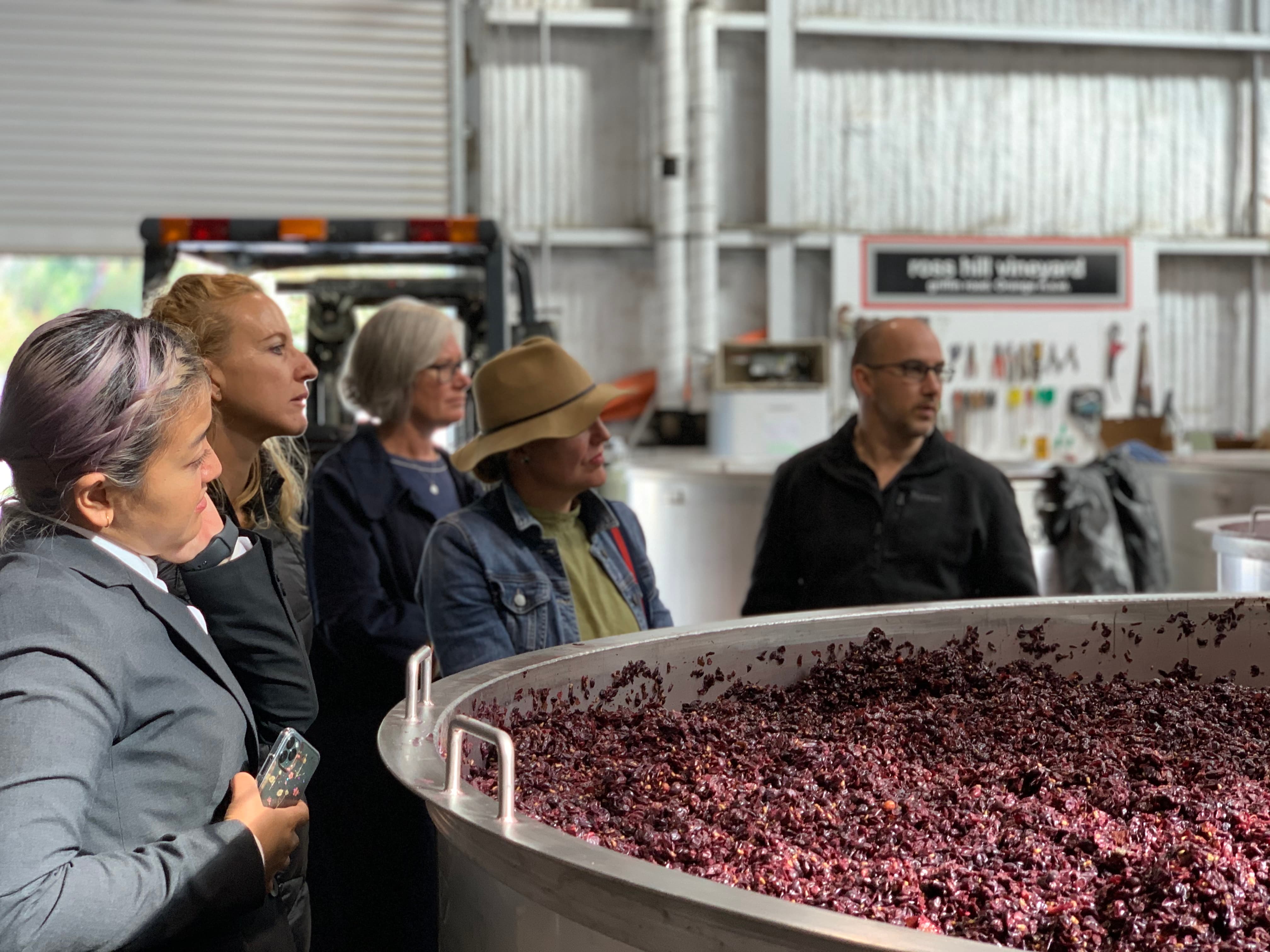 Our custom tours are specifically designed for you and your interests
Allow us create your perfect day with a tailored tour.
Everybody Loves Our Tailored and Private Food and Wine Tours
100% customised tours with experiences to match your specific interests.
100% passionate, local company and guides, supporting our local community.
100% fun, flexible and relaxed tours … guaranteed.
100% all-inclusive tours, ensuring you can sit back and relax.
Touring with Country Food Trails, Orange means you can explore the region, indulge in a glass of wine and relax, knowing that your day is planned and you're in the capable hands of a fun, friendly and local guide.
● Gourmet:
For culinary connoisseurs, we have epicurean adventures that are designed to tantalise and nourish as you sample sustainable and locally sourced goodies.
● Pick your own:
Let us take you to the farm gate for a memorable and immersive experience. Pick your own from local orchards or farms, meet the passionate local growers and purchase farm fresh produce.
● Taste: Food, Wine, Beer, Gin, Cider
There really is something for everyone. Beer enthusiasts will enjoy Orange's exciting craft breweries and gin lovers will delight in our newly opened gin distillery. If cider is your drink of choice, we can tour an award-winning cider producer as well. And of course, there are more than thirty outstanding vineyards.
● Discover:
History, culture and nature is calling, and our local guides are keen to fill you with intriguing stories behind Orange's European settlement. Cultural experiences include learning about local Wiradjuri customs and food with bush tucker tasting, guided by a First Nation elder.
● Explore:
We offer day trips to Eugowra, Parkes, Forbes, Bathurst, Millthorpe, Carcoar, Canowindra and beyond. Our guides are keen and ready to show you the region with a fun, tailored and flexible tour, designed especially for you.
● Corporate:
We specialise in tours of Orange for corporate groups of all sizes. Our guides are ready to show you the region with a fun and flexible tour, designed especially for you.
   Any day
   Any time
  Any group size
   Private transport
   A fully-customised tour including transport, a friendly local guide and all of the fun, exclusiveness and local experiences that you would expect from a leading tour operator
  From $175 per person, depending on number of guests
   Complimentary pick-up and drop-off
Private tours of Orange, NSW
Popular experiences within Orange and the Central West.
Explore, pick, taste and take home delicious, ripe seasonal crops and enjoy meeting our passionate growers, learning about their farming practices and sustainable land use.
Take a day trip to a beautiful local village, discovering quaint main streets, intriguing local history, and indulgent local produce.
Learn about our First Nation culture, visit two sacred sites and sample bush tucker with the friendliest indigenous guide you'll meet.
Meet passionate brew masters, learn how they craft local beers or ciders and of course, taste their creations.
Hear stories from the region's colourful past and discover the history of some of the town's famous homes.
The best place to enjoy a sunset drink and the perfect way to top off a great day.
Wine Tasting and Behind-the-Scenes Tours
Join us for a heightened wine tasting and tour experience with a personalised tasting and vineyard tour.
Artist Studios and Private Galleries
Meet passionate and talented local artists and enjoy a private tour of their studio, garden and gallery. 
Private Gardens
and Parks
Orange is known as "The Colour City" and our gardens live up to this title. Join us for exclusive access to some of our most specular private gardens.
The itinerary suited our family perfectly
We had a great day with Nicole and Gerald. They picked us from our hotel, and we spend the day learning about the Wiradjuri people, their food, tradition and general indigenous history while driving around Orange stopping in significant landmarks. At the end of the day, Jerrold cooked for us a lovely indigenous lunch (crocodile and kangaroo in beautiful local herbs). The itinerary suited our 3 teenagers' family perfectly, and the food was amazing. Jerrold also invited us to pick some herbs from the local community garden on the way home so now we have our own local herbs. Thanks Nicole and Gerald, we will definitely be back! 
Hadas Yehezkel
Warm Hospitality
I asked if Nicole could arrange a wineries tour for our group of 8. I was happy to leave it to her, as it was evident that she is knowledgeable and keen to create a great experience for all! We visited 3 smaller, boutique wineries (Orange Mountain Wines, Strawhouse Wines and Dindima) and really enjoyed the warm hospitality we received at each. We met marvellous, dedicated people, and the tastings were relaxed and very congenial. We felt no pressure to purchase at any place, but did buy up as the wines were so very good!!  I will recommend her tours to all my friends. I am keen to try her other tours as soon as I can.  
Sally Mair
A group of girlfriends and I recently spent a fabulous day with the bubbly and engaging Nicole from Country Food Trails. What a fantastic and fun experience and such a great way to gain a more intimate insight into Orange! Starting with the Heritage Trail, which was fascinating and informative, we then enjoyed the Bush Tucker component presented by the very passionate and entertaining Gerald and his assistant Erin. The morning concluded with a delicious cheese and charcuterie platter. We spent the afternoon with the delightful Lee Bell from Dindima Wines and a special visit to Tawarri Olives at the foot of Mt Canobolas where we were treated with a tour of the olive grove and garden, olive oil tasting and a delicious homemade cake. Thank you, Nicole, for helping us put together such a wonderful itinerary for the day.  A real highlight of our stay. 
Ange Flannery
Nicole Farrell is the founder of Country Food Trails and has been an Orange local for most of her life. With years of experience taking small groups on textile safaris of India and Morocco, Nicole knows how to plan a tour that's fun, flexible and filled with exciting hands-on experiences.
If you're looking for a down-to-earth food and wine tour of Orange, join Nicole on one of our signature tours, or let her design a fully customised private tour.
A focus on sustainable agritourism
At Country Food Trails, we're committed to practising sustainable tourism and running zero waste tours. We use cloth napkins and reusable containers, cups and cutlery. We'll happily take home food scraps to feed to our chooks.
We contribute to Greenfleet to offset our carbon emissions. 
Do you offer tours that don't include alcohol?
Do you offer tours for large groups?
Yes, we can cater for large groups. Contact Nicole to chat about options.
Do you cater for corporate guests?
Yes, we've organised custom tours for large corporate groups. Creating memorable experiences is our speciality. 
Got a question or want to enquire about last-minute availability? Call Nicole 0402 650 190