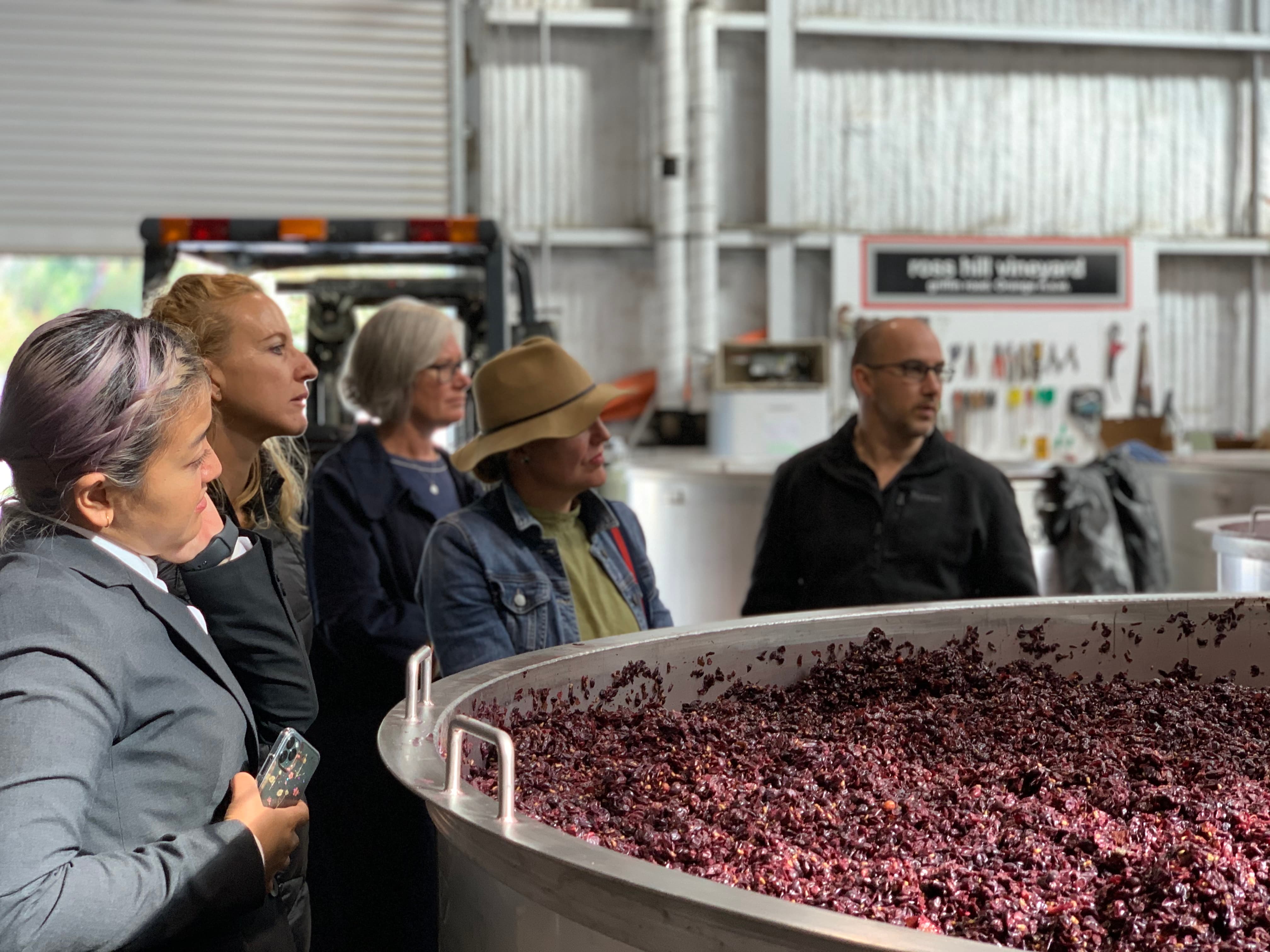 Enjoy a private, personalised wine tour in 

Orange, 

NSW
Taste the best wine in the region and meet the producers. 
Orange wine tour highlights
Allow us to plan and book the perfect wine tour. Just arrive and enjoy.
Sample cool-climate 

wines 
Taste the best of the region's cool-climate wines.
We often include a drink at the sky bar as our final stop on tour.
You'll meet passionate, knowledgeable local wine producers.
Your private wine tour includes:
● Wine tasting fees
● Private transport for your group
● Friendly, local guide with wine industry experience
Wine tasting fees vary from $10 – $20 per person per venue. We include these costs into the price of the tour.
We can select the wineries or we are happy for you to choose.
We are a 100% locally owned company, with experienced, passionate local guides.
  Any day
  1.30pm – 5.30pm
  2 to 20 guests
  Private transport
  Tasting fees, a choice of wineries, friendly local guide
  From $165 per person, depending on number of guests
We accept dine & discover vouchers. Enter the words 'dine&discover' in the promo section when booking online. You must present your voucher for scanning at the start of the tour.
Like catching up with an old friend
Nicole made our wine and history tour of Orange interesting. We had been on tours before that had made us feel not so special but with Nicole we had felt like we were catching up with an old friend. The wineries were lovely that she had arranged for us to visit. We felt well looked after by both Wineries. Thoroughly enjoyed the history tour of Orange very informative. We highly recommend anyone joining a tour with Country Food Trails.
Kylie Newsome
Warm Hospitality
I asked if Nicole could arrange a wineries tour for our group of 8. I was happy to leave it to her, as it was evident that she is knowledgeable and keen to create a great experience for all! We visited 3 smaller, boutique wineries (Orange Mountain Wines, Strawhouse Wines and Dindima) and really enjoyed the warm hospitality we received at each. We met marvellous, dedicated people, and the tastings were relaxed and very congenial. We felt no pressure to purchase at any place, but did buy up as the wines were so very good!!  I will recommend her tours to all my friends. I am keen to try her other tours as soon as I can.  
Sally Mair
Meet your tour guide, Nicole
Nicole Farrell is the founder of Country Food Trails and has been an Orange local for most of her life. With years of experience taking small groups on textile safaris of India and Morocco, Nicole knows how to plan a tour that's fun, flexible and filled with exciting hands-on experiences you won't find anywhere else.
If you're looking for a down-to-earth food and wine tour of Orange, NSW, join Nicole on one of our signature tours, or let her design a fully customised private tour for you.
A focus on sustainable agritourism
At Country Food Trails, we're committed to practising sustainable tourism and running zero waste tours. We use cloth napkins and reusable containers, cups and cutlery. We'll happily take home food scraps to feed to our chooks.
As part of our commitment to reducing food waste, we've partnered with Love Food Hate Waste. We also contribute to Greenfleet to offset our carbon emissions. 
Is this tour suitable for children?
We can customise this tour to include the wineries that cater for children. Call Nicole to discuss.
Can you accommodate large groups?
Please contact Nicole to chat about large groups of up to 20 guests.
Can we customise our tour?
Absolutely! In fact, our wine tours change everyday depending on guest requests, interests and budget. We are happy to recommend vineyards or you can choose where to visit.
What happens if it rains?
All tours operate rain, hail or snow, (after all it is Orange). You should dress for the day's weather conditions. It's impossible to cancel a tour at the last minute due to circumstances beyond our control.
Got a question or want to enquire about last-minute availability? Call Nicole 0402 650 190